Why I oppose Musharraf??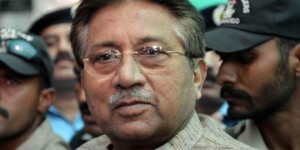 Writer: Muhammad Umair Cheema
Courtesy: ARY Blog http://blogs.arynews.tv/why-i-oppose-musharraf/
If I did something, I must accept that, no matter what will be my fate then because I am not coward. But I am really disappointed on what Mr.Musharraf did.
First he violated the constitution two times in October 1999 and in November 2007 but now he is running away from this, "Come on commander it is not your style."
His complete era is full of his mistakes; I want to point out those mistakes one by one:
1) He violated constitution two times in his era.
2) His behavior was not good to his opponents.
3) His biggest mistake dismissal of Justice Iftikhar.
4) His blind confidence on his advisers which made him a usual ruler having nothing for people.
5) He did not follow his 7 points agenda which he presented after quo.
6) He distanced himself from people by picking corrupt people confronting his agenda.
7) Lal masjid issue whatever it was but not solved with intelligence and dealt wrongly.
8) His behavior towards our civilization and culture made us worse in many ways.
9) Referendum idea was a stupid and idiot idea which he followed.
10) He always tried to solve problems with power not with strategy and political way.
These are the points which made him weaker and unacceptable to the nation and I'm surprised he is still believing people like Dr.Amjad who did all this with him. He must think about his friends who are no where now. He must not insist on blunders. He would have realized all these deceptions on his welcome day in Pakistan but he has not.
One last thing he is head of a political party so he should try political ways but he is still trying to get army involved in all this stuff then how can a Pakistan take him as a leader??
About Muhammad Umair Cheema
Umair Cheema is a student of University Of engineering and technology Lahore. He always write on issues what he thinks are right or wrong according to the situations.